About me
John W. Grundy BSc (Hons), COptom, Companion CIBSE, MILE, MSLL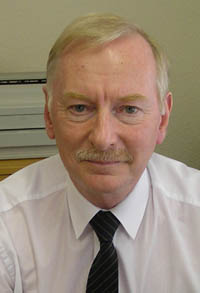 I studied optometry for three years at the University of Wales, Cardiff, receiving an honours degree in 1970. Following a year of pre-registration supervision I obtained the Fellowships of the British Optical Association and the Worshipful Company of Spectacle Makers. (Subsequently the BOA and SMC amalgamated to become the College of Optometrists). A year later I was granted Freedom of the City of London.
I was Secretary of the Durham Local Optical Committee from 1979 to 1984 and Secretary and Chairman of Northumberland and N. Durham Association of Optical Practitioners from 1979 to 1980. I was a member of the National Association of Optical Practitioners Occupational Visual Welfare Committee from 1974 to 1984 and Chairman from 1981 to 1985. I was a member of the National Association of Optical Practitioners Executive Council and various sub-committees from 1981 to 1985 and National Chairman from 1984 to 1985. I have been an examiner for the College of Optometrists in their Professional Qualifying Examinations from 1984 until recently. I studied Illuminating Engineering and in 1993 was awarded the Lighting Industry Federation Certificate. In 1995 I was awarded the Lighting Industry Federation Advanced Certificate. I am a member of the Institution of Lighting Engineers and the Society of Light and Lighting.
I am the author of many articles and lectures relating to occupational vision and illumination, both in this country and abroad. I was the originator of the Visibility Indicator in an attempt to improve home lighting conditions for the elderly and partially sighted. The indicator was subsequently featured on local radio and the BBC Radio 4 'In Touch' programme and was distributed with the 1990 'In Touch' Handbook. I have acted as an advisor the College of Optometrists on matters relating to Occupational Optometry and Illumination as well as being a consultant to Management and Trade Unions on Occupational Vision, especially in connection with VDUs.
I retired from my Optometrist practice in April 2011.