| | |
| --- | --- |
| Rank | Sergeant |
| Name | John Walton RICHARDSON |
| Position | Navigator/ Bomber |
| Nationality | United Kingdom |
| Service | Royal Air Force Volunteer Reserve |
| Unit | 77 Squadron |
| Age | 28 |
| Service No. | 1062514 |
| Grave | Rheinberg War Cemetery, 4.D.5-20 (Collective Grave) |
John 'Jack' Walton Richardson (although his parents preferred to call him 'Walton') was the son of Walton and Laura Mary Richardson of 12, Lanark Road, Ferryhill, Co. Durham, England. He had a brother Ken who also served in the Armed Forces, but who survived the war.

While "in digs" at Blackhall Rocks near Hartlepool in 1938, John met Mary Whitfield on a bus taking him to Horden where he was a teacher, and she was on her way to Sunderland where she was taking pre-enrolment tuition at Sunderland School of Pharmacy.

He volunteered for the RAF Reserve and moved away from the area, but continued a correspondence with Mary Whitfield's family, including her sister and brother-in-law, Jane and Bob Johnson. The letter reproduced below was the last letter he wrote to Jane (Jennie) Johnson. He also enclosed a photograph which is shown below the letter.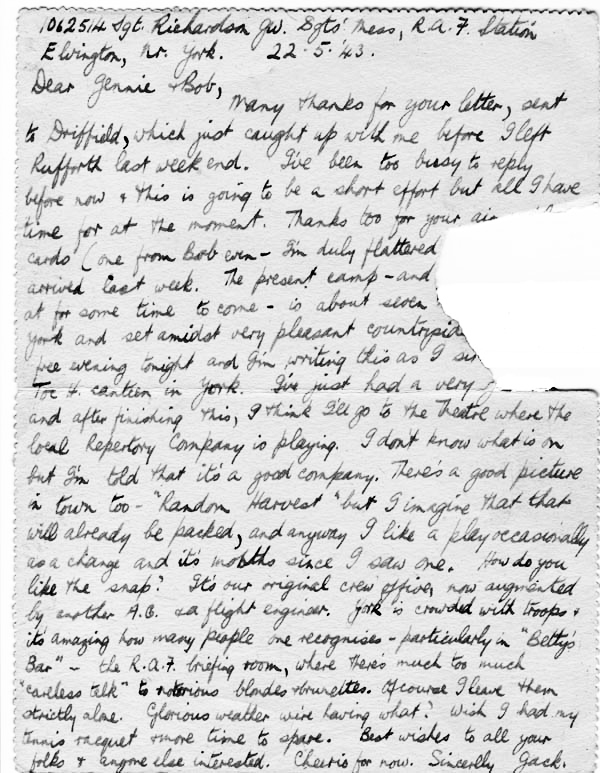 1062514 Sgt. Richardson JW. Sgts' Mess, RAF Station
Elvington, Nr. York. 22.5.'43
Dear Jennie & Bob,
Many thanks for your letter, sent
to Driffield, which just caught up with me before I left
Rufford last weekend. I've been too busy to reply
before now & this is going to be a short effort but all I have
time for at the moment. Thanks too for your air..
cards (one from Bob even - I'm duly flattered....)
arrived last week. The present camp - and [where I will be]
at for some time to come - is about seven [miles south of]
York and set amidst very pleasant countryside [I have a]
free evening tonight and I'm writing this as I sit [in the]
Toc H canteen in York. I've just had a very good [meal?]
and after finishing this, I think I'll go to the Theatre where the
local Repertory Company is playing. I don't know what is on
but I'm told that it's a good company. There's a good picture
in town too - "Random Harvest" but I imagine that that
will already be packed, and anyway I like a play occasionally
as a change and it's months since I saw one. How do you
like the snap? It's our original crew officers, now augmented
by another A.G. and flight engineer. York is crowded with troops &
it's amazing how many people one recognises - particularly in "Bettys'
Bar" - the R.A.F. briefing room, where there's much too much
"careless talk" to notorious blondes & brunettes. Of course I leave them
strictly alone. Glorious weather we're having what. Wish I had my
tennis racquet & more time to spare. Best wishes to all your
folks & anyone else interested. Cheerio for now. Sincerely Jack.
Note: Bettys Tea Room in York was (and still is) a famous cafe in St. Helen's Square, York. During the war its basement 'Bettys Bar' became a favourite with 'Bomber Boys' stationed around York and was affectionately nicknamed the 'Dive' or 'The Briefing Room'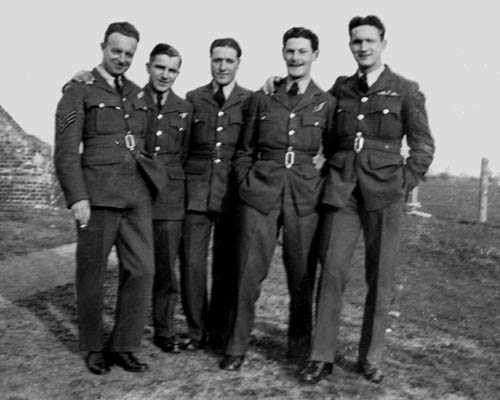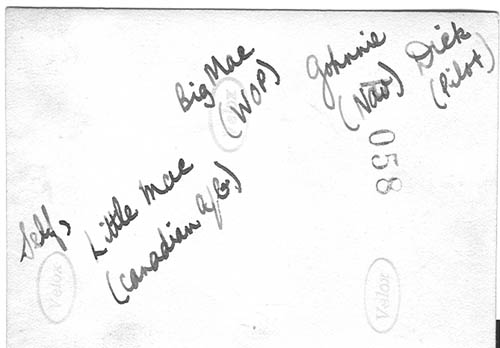 L to R: John Richardson, David McFarlane, Joseph Kershaw (?), John Waterston, Richard Lewis
Joseph Kershaw was the WOP (Wireless Operator) when the plane was lost, but it is not yet confirmed that he is the man in the photograph
Apparently, the picture was taken at Elvington shortly before their final mission: the letter explains that two new members of the crew were not in the picture (an AG and a flight engineer [Joseph Laurence and William Codd]). The letter is dated 22 May 1943, and postmarked 23 May 1943. It could very well be the last letter he wrote, since his last flight took off on 25 May 1943. Part of the letter was damaged when Jane Johnson's husband, Bob, with extraordinary insensitivity, removed the stamp for his collection.

As Jane Johnson opened and read the letter, she had no idea that John and all the other crew were already dead. It would be more than 5 years before their fate was confirmed, when John's mother wrote this letter to Jane: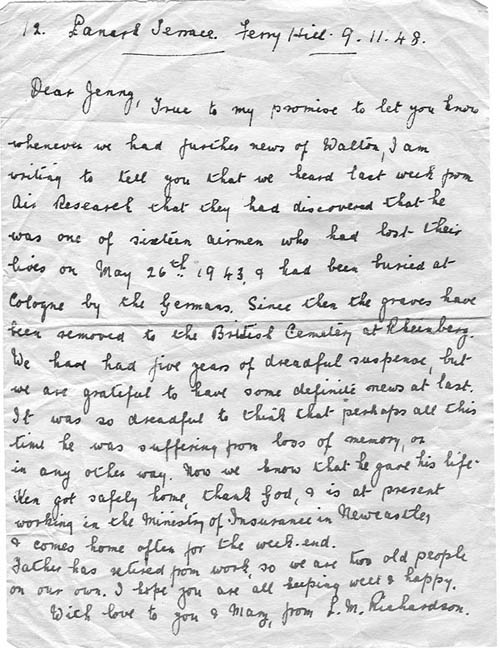 12 Lanark Terrace, Ferry Hill. 9.11.48
Dear Jenny,
True to my promise to let you know whenever we had further news of Walton, I am writing to tell you that we heard last week from Air Research that they had discovered that he was one of sixteen airmen who had lost their lives on May 26th. 1943 & had been buried at Cologne by the Germans. Since then the graves have been removed to the British Cemetery at Rheinberg. We have had five years of dreadful suspense, but we are grateful to have some definite news at last. It was so dreadful to think that perhaps all this time he was suffering from loss of memory, or in any other way. Now we know that he gave his life. Ken [his brother] got safely home, thank God, & is at present working in the Ministry of Insurance in Newcastle, & comes home often for the week-end.
Father has retired from work, so we are two old people on our own. I hope you are keeping well & happy.
With love to you & Mary, from L.M. Richardson
John Richardson's mother, Laura Mary Richardson wrote this letter dated 9 November 1948 in which she explains that she had only just received confirmation that her son was dead, five years after he was reported 'missing in action', and that his body had been transferred to Rheinberg War Cemetery.

Air Research were wildly optimistic that only 16 airmen lost their lives that night, since the Halifax explosion alone accounted for 21 fatalities. The Düsseldorf raid of 26th May 1943 cost the lives of 156 allied aircrew, with a further 17 being taken Prisoner of War.