Rheinberg War Cemetery
Rheinberg War Cemetery, which is maintained by the Commonwealth War Graves Commission, is just south of the centre of the town of Rheinberg on the road to Kamp Lintfort. Rheinberg, in North Rhine Westphalia, is close to the River Rhine and only 23 miles downstream of the 26 May 1943 mission target of Düsseldorf.
The site of Rheinberg War Cemetery was chosen in April 1946 by the Army Graves Service for the relocation of Commonwealth graves recovered from many German cemeteries in the area. The majority of those now buried in the cemetery were airmen, whose graves were brought in from Düsseldorf, Krefeld, Munchen-Gladbach, Essen, Aachen and Dortmund; 450 graves were from Cologne alone.
The men of the other fighting services buried here mostly lost their lives during the battle of the Rhineland, or in the advance from the Rhine to the Elbe. There are now 3,330 Commonwealth servicemen of World War II buried or commemorated at Rheinberg War Cemetery. 156 of the burials are unidentified.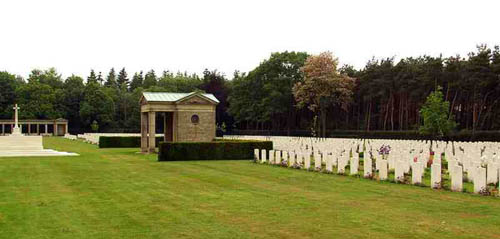 Rheinberg War Cemetery looking North. Plot 3 is in the foreground, Plot 4 is to the right of the Pavilion
28 of Major Walter Ehle's victims from 26th May 1943 are buried together ar Rheinberg: 24 in Plot 4, Row D, and 4 others in the adjacent Row E. Hover or tap on the plan below for an aerial view.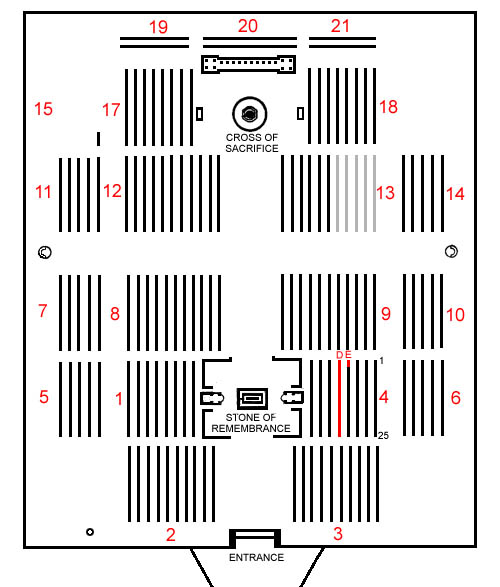 Rheinberg War Cemetery: Plot 4, Row D

Grave

Name

Aircraft
Type | Serial No | ID

Duty

1
SMITH, Leonard Ray
Stirling III
BF534
LS-L
Air Gunner
2
MORRIS, Hugh John
Stirling III
BF534
LS-L
Wireless Operator/ Air Gunner
3
CODD, William Reginald Leslie
Halifax II
JB837
KN-D
Flight Engineer
4
WATERSTON, John Hunter
Halifax II
JB837
KN-D
Navigator
5-20

C
O
L
L
E
C
T
I
V
E

G
R
A
V
E

BROADHEAD, Eric
Stirling I
EF361
MG-B
Flight Engineer
5-20
COLLINS, Norman Sidney
Stirling III
EF887
HA-Z
Pilot
5-20
DENHAM, Walter
Stirling I
EF361
MG-B
Air Bomber
5-20
FINCHAM, Arthur William
Stirling III
EF887
HA-Z
Flight Engineer
5-20
KERSHAW, Joseph
Halifax II
JB837
KN-D
Wireless Opartor/ Air Gunner
5-20
LAURENCE, Joseph Fernand Rolland
Halifax II
JB837
KN-D
Air Gunner
5-20
LEWIS, Richard
Halifax II
JB837
KN-D
Pilot
5-20
MacFARLANE, David William
Halifax II
JB837
KN-D
Air Gunner
5-20
MAYNARD, Derek Charles
Stirling III
EH887
HA-Z
Air Gunner
5-20
NEWMAN, Raymon Edgar
Stirling III
BF534
LS-L
Air Bomber
5-20
ORCHARD, Thomas Charles Lewis
Stirling III
BF534
LS-L
Air Gunner
5-20
O'RIORDAN, Dennis Patrick
Stirling III
BF534
LS-L
Flight Engineer
5-20
RICHARDSON, John Walton
Halifax II
JB837
KN-D
Navigator/Bomber
5-20
SMITH, Charles Thomas
Stirling III
BF534
LS-L
Air Observer
5-20
THOMSON, Ivan Samuel
Stirling III
BF534
LS-L
Pilot
5-20
Not Known
21
BERTHIAUME, Joseph Francois Exavier Gilles
Stirling I
EF361
MG-B
Pilot
22
HILLS, William James
Stirling I
EF361
MG-B
Wireless Operator/ Air Gunner
23
LAGNA, Noel
Stirling I
EF361
MG-B
Air Gunner
24
BROTHERTON, Alwyn
Stirling I
EF361
MG-B
Navigator
24
FISHER, Albert Leslie
Stirling I
EF361
MG-B
Air Gunner
Rheinberg War Cemetery: Plot 4, Row E Graves 1-4

Grave

Name

Aircraft
Type | Serial No | ID

Duty

1
LAMOND, James Crawford
Stirling III
EH887
HA-Z
Air Gunner
2
ROUGHAN, John Patrick
Stirling III
EH887
HA-Z
Wireless Operator/ Air Gunner
3
LEDBURY, William James
Stirling III
EH887
HA-Z
Navigator/ Bomber
4
BLANCHARD, Cyril Francis
Stirling III
EH887
HA-Z
Navigator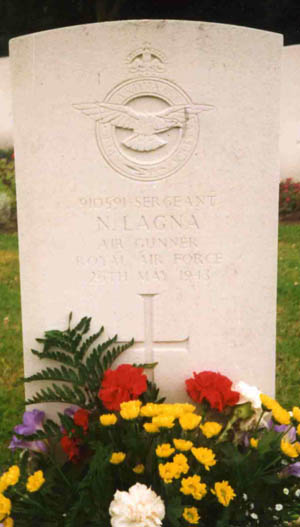 Noel Lagna's Headstone in Plot 4, Row D, Grave 23