Stirling III EH887 HA-Z
Aircrew
Sergeant F. W. BENNETT (Second [New] Pilot)
Flying Officer Cyril Francis BLANCHARD (Navigator)
Norman Sidney COLLINS (Pilot)
Sergeant Arthur William FINCHAM (Flight Engineer)
Flight Sergeant James Crawford LAMOND (Air Gunner) (RCAF)
Sergeant William James LEDBURY (Navigator/Bomber)
Sergeant Derek Charles MAYNARD (Air Gunner)
Sergeant John Patrick ROUGHAN (Wireless Operator/Air Gunner)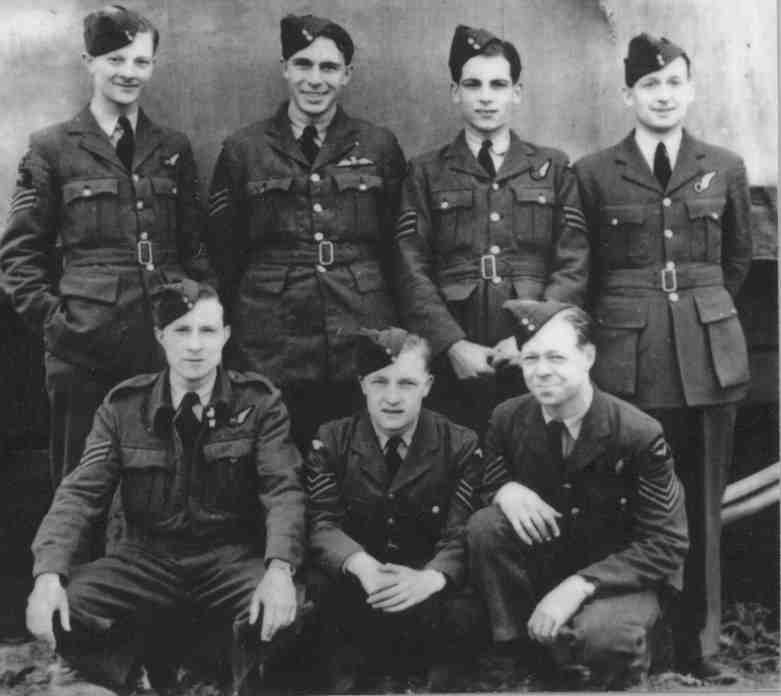 The Pilot, Sgt. Norman Collins (second from left, back row) a 22 tear old Londoner was on his fifth mission. The only crew member not shown is Sgt. Bennett. He was a newly qualified pilot, and it was a requirement that new pilots had to accompany experienced crew on two bomber missions to observe and learn before being allowed to take their own crew on a real mission. Sgt. Bennett, on his first mission, was the sole survivor, being hospitalised because of his injuries, and presumably later became a Prisoner of War (POW number unknown).
Aircraft
Stirling III, Serial No: EH887
The Stirling was the first British four-engined bomber of World War II. This Stirling III version was built by Austin Motors and delivered to RAF 218 Squadron on 20 May 1943. It bore the X1D (Identification) of HA-Z and was powered by Bristol Hercules engines.
The Stirling was very agile and praised for its ability to out-turn enemy night fighters and for its good handling characteristics, but its relative poor altitude ceiling was often a subject of criticism. When Stirlings were on operations with other RAF bombers which could fly higher, the Luftwaffe tended to concentrate on the Stirlings.
HA-Z had taken off at 00.16 on 26 May 1943 on a bombing mission to Düsseldorf, when it was shot down at 4500 metres (14,700ft), 8km south of Jülich by Major Walter Ehle of II./NJG1 at 01.55, and crashing at Düren, killing 7 of the 8 crew.
Squadron
RAF 218 (Gold Coast) Squadron, based at Downham Market.