NJG1 Order of Battle
Nachtjagdgeschwader (Night Fighter Wing) NJG1 was the primary German Night Fighter force defending the Reich from night bombing raids by the RAF.

The mainstay of NJG1 was the Messerschmitt Bf110 night-fighter.

The original Bf110 was designed as a two seat Zestörer (destroyer) fighter for escorting bombers, but its limitations were exposed in the Battle of Britain. When converted to a three seat night fighter, comprising Pilot, Bordfunker (Radio/radar operator) and Bordschutze (Air gunner), it became a formidable opponent.
The Order of Battle at May 1943 is shown in the table below (including Pilot's name where known).
The . in German represents 'st','nd' ,'th' etc in number abbreviation, so 2. = 2nd
Roman numerals represent the Gruppe so II./NJG1 is the 2nd Group of Nachtjagdgeschwader 1 (Night Fighter Wing 1).
Arabic numerals represent the Staffeln, so 4./NJG1 is the 4th Staffel of NJG1 (the 4th Squadron of Night Fighter Wing 1).
The Staffeln were usually distributed evenly between Gruppen, so I Gruppe would include Staffeln 1,2 3 : II Gruppe would include Staffeln 4,5,6 etc.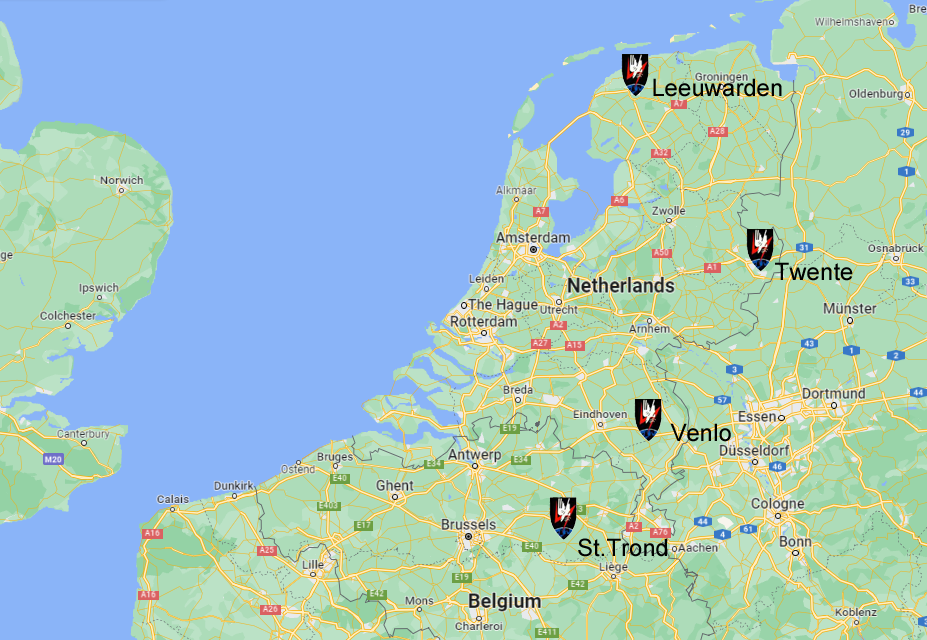 I

GRUPPE. Operating Me Bf110 out of Venlo

Stab (

I

./NJG1)
Staffel 1 (1./NJG1)
Staffel 2 (2./NJG1)
Staffel 3 (3./NJG1)
Maj Werner Streib (Kommandeur)
Hptm Liedke
Fw Karl Leopold
Uffz Hans Kurz
Ofw Hermann Sommer
Lt Rolf Bussmann
Hptm Hans-Dieter Frank
Ofw Bruno Eikmeier
Ofw Hermann Schönthier
Lt Heinz Strüning
Lt Werner Hopf
Fw Heinz Oloff
Lt Schmidt
Ofw Fritz Kruse
Oblt Manfred Meurer
Lt Wilhelm Beier
Lt Walter Schön

II

GRUPPE. Operating Me Bf110 and Do217 out of St. Trond

Stab (

II

./NJG1)
Staffel 4 (4./NJG1)
Staffel 5 (5./NJG1)
Staffel 6 (6./NJG1)
Maj Walter Ehle (Kommandeur)
Lt Heinz-Wolfgang Schnaufer
Oblt Wilhelm Telge
Lt Johannes Hager
Ofw Fritz Schellwat
Oblt Eckardt-Wilhelm von Bonin

III

GRUPPE. Operating Me Bf110 out of Twente

Stab (

III

./NJG1)
Staffel 7 (7./NJG1)
Staffel 8 (8./NJG1)
Staffel 9 (9./NJG1)
Hptm Wolfgang Thimmig (Kommandeur)
Oblt August Geiger
Lt Hans-Heinz Augenstein
Lt Werner Rapp
Oblt Dietrich Schmidt
Hptm Herbert Lütje
Uffz Emil Heinzelmann
Hptm Wilhelm Dormann
Lt Karl-Heinz Vollkopf

IV

GRUPPE. Operating Me Bf110 out of Leeuwarden

Stab (

IV

./NJG1)
Staffel 10 (10./NJG1)
Staffel 11 (11./NJG1)
Staffel 12 (12./NJG1)
Maj Helmut Lent (Kommandeur)
Uffz Karl Pfeiffer
Ofw Karl-Heinz Scherfling
Oblt Rudolf Sigmund
Uffz Scherer
Ofw Dörrer
Fw Heinz Vinke
Maj Rolf Leuchs
Lt Hermann Greiner
Lt Robert Denzel
Oblt Lothar Linke
Lt Heinz Grimm
Uffz Georg Kraft
Oblt Eberhard Gardiewski